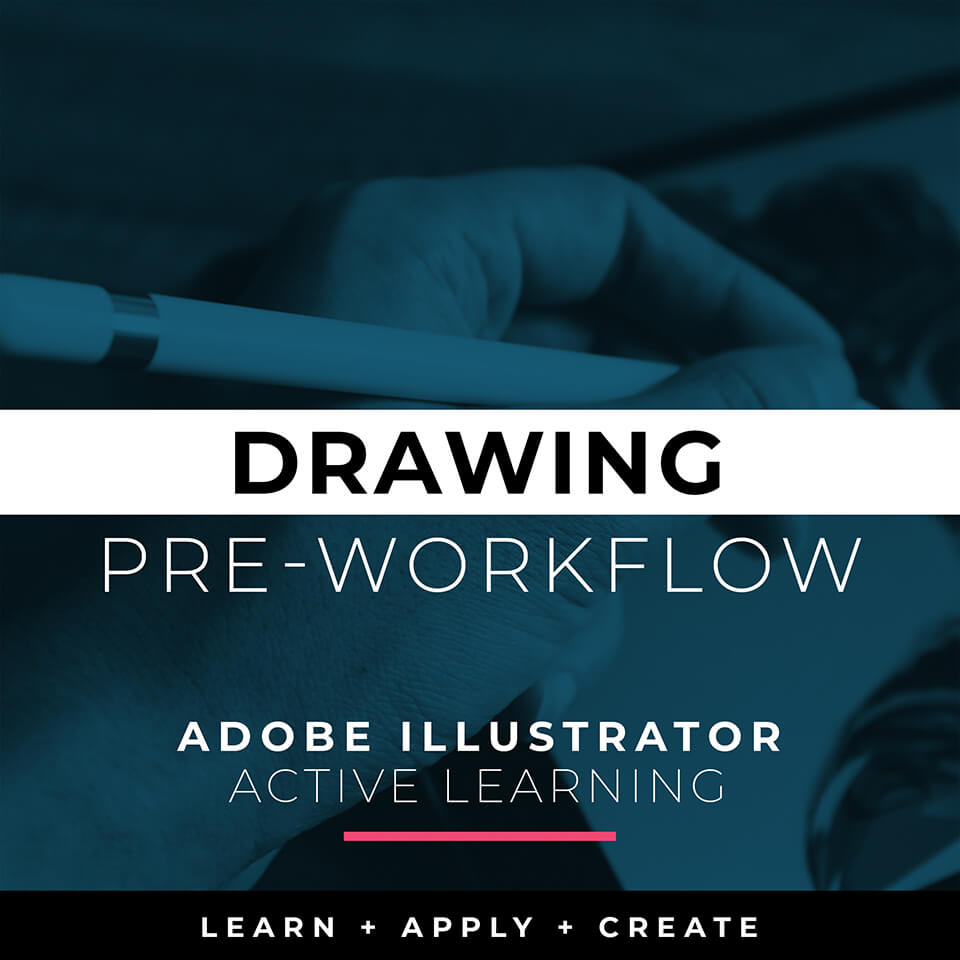 DIGITAL DRAWING
Last year we started adding on our Drawing for Illustrator so we can start the tutorials, challenges and workflows from the your own drawing or sketch in our Active Learning Curriculum for Adobe Illustrator.
The Digital Drawing component or Pre-Workflow will be a starting point that we can use to start advancing you though the Learning Modules with your own Drawing or Sketch. If you are a non-drawing person, I would still encourage you to follow along from the Photo but you can Trace it rather than do an independent drawing.
Follow Along with the Program you intend on Using for Illustrator
I will be using Adobe Photoshop, but any Drawing or Sketching App will work for the Lessons
Add on Drawing after you feel more confident in Adobe Illustrator. I do not recommend this step if you are still cursing at the computer screen while using Illustrator.
Add Drawing or Photos into your own hand so you can practice the drawing or sketching style you intend on bringing in to Adobe Illustrator.
HOW TO START ON A UNIT BLOCK: Our 100 Modules are organized into (6) Unit Blocks based on the Primary Building Tool or Tool-Based Workflow. Once you are Enrolled in our Active Learning Curriculum, you can sort the 100 Learning Modules by Tool-Based Workflow in your Enrolled In tab on Teachable. Type in the Search Bar (find): Pen Tool, Pencil, Blob Brush, Shapes, or Text. The Learning Modules will automatically be arranged from Easiest to more Challenging (per Unit Block).
HOW TO FOLLOW ALONG: Once you have Downloaded + Extracted the Active Learning Resource Folders, switch Teachable (Video Instruction) to a 2nd Device, Mobile Phone, or Teachable App to Follow Along. This will prevent pausing and toggling back and forth from the video to the program. This will also keep Adobe Illustrator Full Screen on your computer.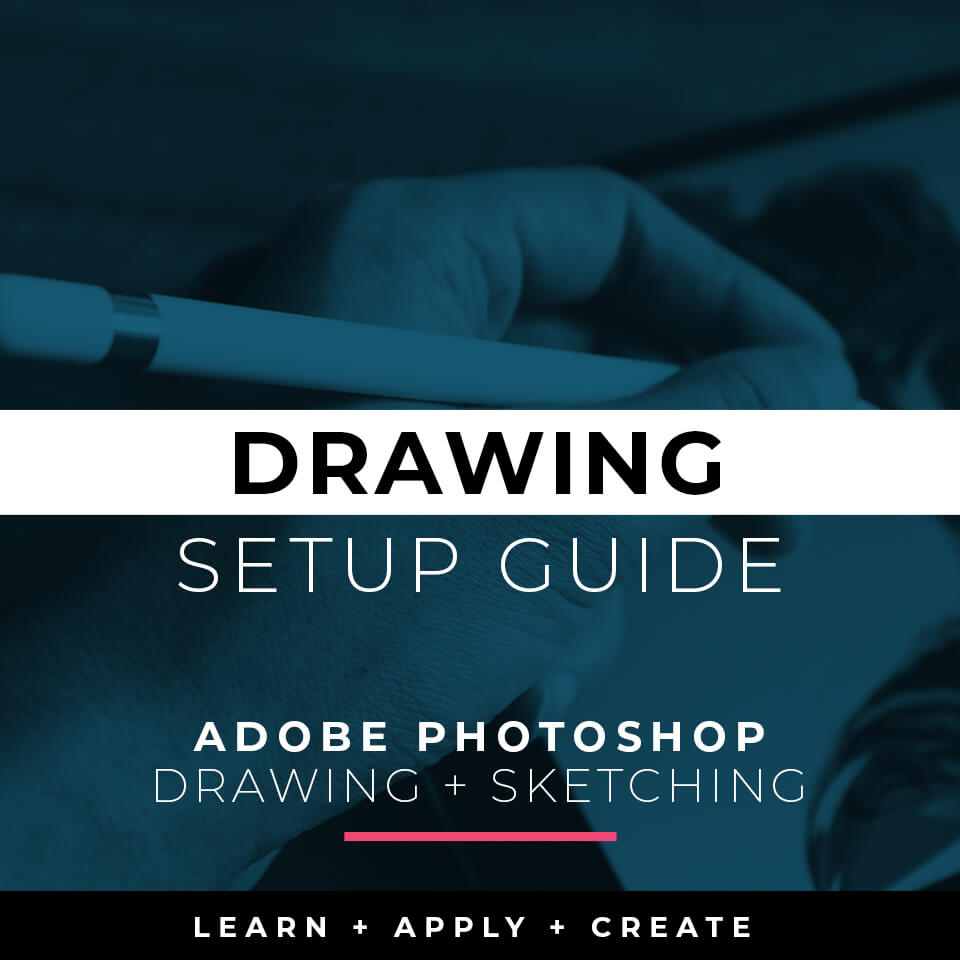 Download Resources: The Drawing Lessons will start from a Stock Photo. These will be in the 1st Section of each Learning Module that starts with a Drawing Lesson.
Set Up: The main goal during the setup is to be able to see the resource image while you are drawing. Use any drawing or sketching program that you intend on using along with Adobe Illustrator. (I will be using Adobe Photoshop CC)
Document Size: The size is up to you, my Drawing side is 1080px x 1080px so I can export to Instagram. (Create a 2160px x 1080px Document in Photoshop to mirror the video)
Create Frame: Create Frame and Place Embedded Image. Save the Document and Duplicate Frame in your Layers for new lessons.
Resource:
Program:
Any Drawing or Sketching App (iPad Drawing Apps)
Adobe Photoshop or Drawing Program
Program Basics: I will be using Adobe Photoshop for the Drawing Lessons. The Drawing will require an elementary level of experience in Adobe Photoshop. Think of it as a nicer piece of paper. We are just using the Brush and Eraser Tools to complete the sketch or drawing.
Layers: I will be using 2 layers: (1 for the Photo Reference (Frame) Locked Out. I have removed the Saturation from the Image with an Adjustment Layer. 1 layer for the Drawing. Try to keep them separate so you can drag the drawing over the image to double check proportions and to move to Adobe Illustrator.
Brush Settings: I will be using mainly the Paint Brush Tool with a Dry Brush (Pick any of the Dry Brushes in Adobe Photoshop - I am using the Kyle Ultimate 2B Pencil) These will all be personal preference, but I did want to give you my settings so you can mirror what is happening on screen. Opacity 100% Flow: 25% Smoothing 25% Color: Dark Gray
Other Tools: Selection Tool (V) with Show Transform Controls. Lasso Tool (L) use as a Selection Tool to move areas of your drawing. Hold down Shift while Drawing for Horizontal and Vertical Lines. (Shift X) to switch color Swatches from Dark to White. Eraser Tool (E) with Brush Mode: Kyle- Eraser Basic
Enroll in our 100 LEARNING MODULES to follow along with our Tutorials, Challenges, and Workflows on Teachable.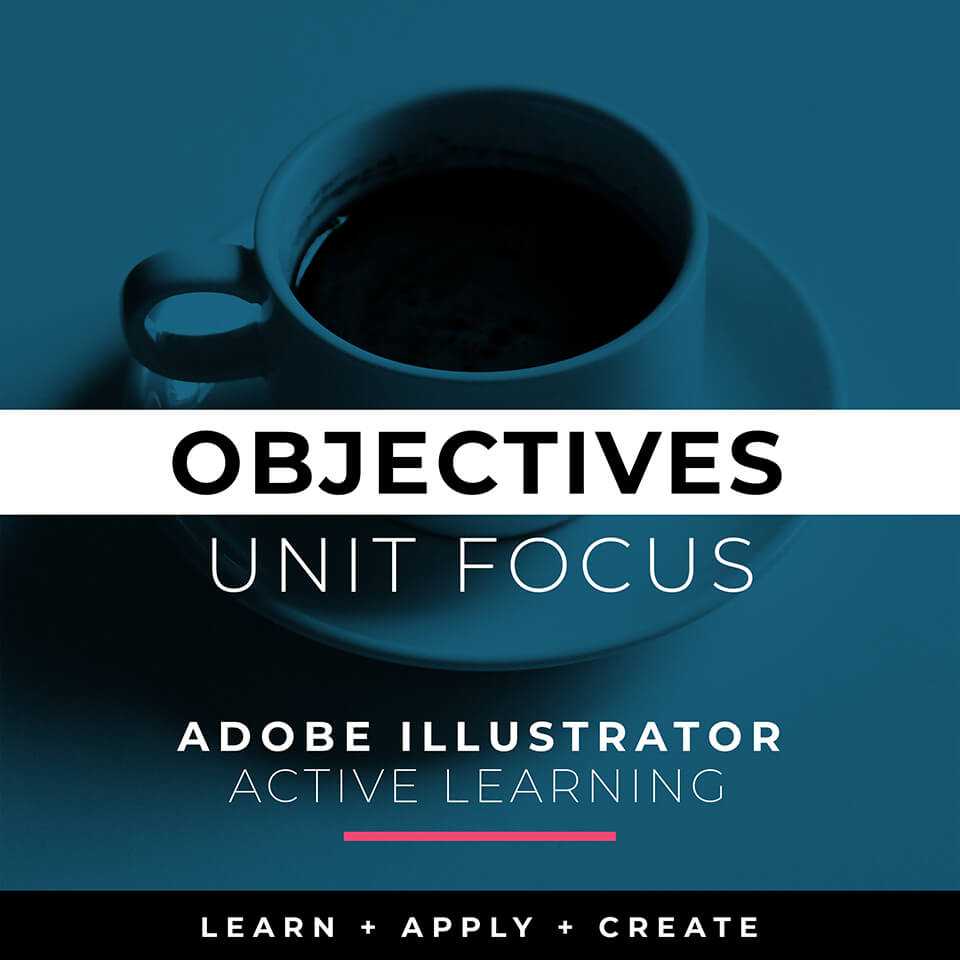 Our Pre-Workflow and Digital Drawing will be for those of you looking for the full-workflow starting from scratch.
Focus: The main goal of this section is to start incorporating more of your own Drawings, Traces or Sketches into the Tutorials. This is so you are going off of the same resource you intend on using in Adobe Illustrator. What I want you to do during this assignment is to think of the Resource and Program you intend on using BEFORE you get to Adobe Illustrator.
Resources: You will find the Photo Resources in the 1st Lecture in each of the Learning Modules. The Downloadable Templates for our Drawing Lessons are in the Getting Stared Guide for our Active Learning Curriculum.
Mirror Resource:
Use the Photo, a Simple Trace, or Sketch as your Rough Draft? Practice using what you intend on using in Adobe Illustrator. If you will NOT be drawing, then go directly off of the Photo or Create a basic Trace.
Program or Paper:
Drawing on Paper + Scanner (camera phone)
Any App (iPad Drawing Apps)
Adobe Photoshop or Drawing Program