DOWNLOAD OUR BRUSHES + TUTORIAL RESOURCES TO FOLLOW ALONG WITH OUR 100 BEGINNER TUTORIALS PLAYLIST ON YOUTUBE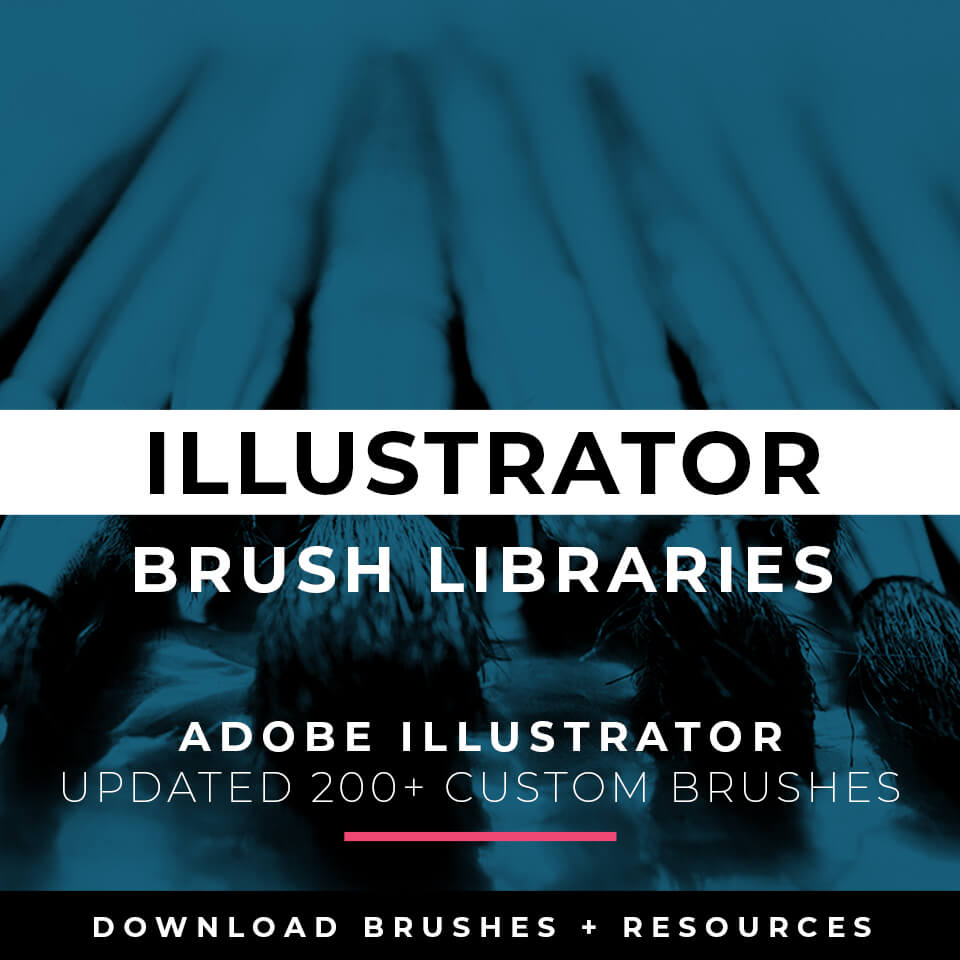 STEP #1: DOWNLOAD OUR (UPDATED) 200 ADOBE ILLUSTRATOR BRUSHES. Our (Updated) 200 Adobe Illustrator Brushes are specifically designed for Illustrators and Cartoonists to speed up their workflow. I have recently added more brushes and updated the Brush Libraries to allow for Pressure Sensitivity. Follow Along with the Tutorials or Use them with Your Own Artwork. All of our ( Updated) Brush Libraries are included within our 200 Adobe Illustrator Brushes + Resources.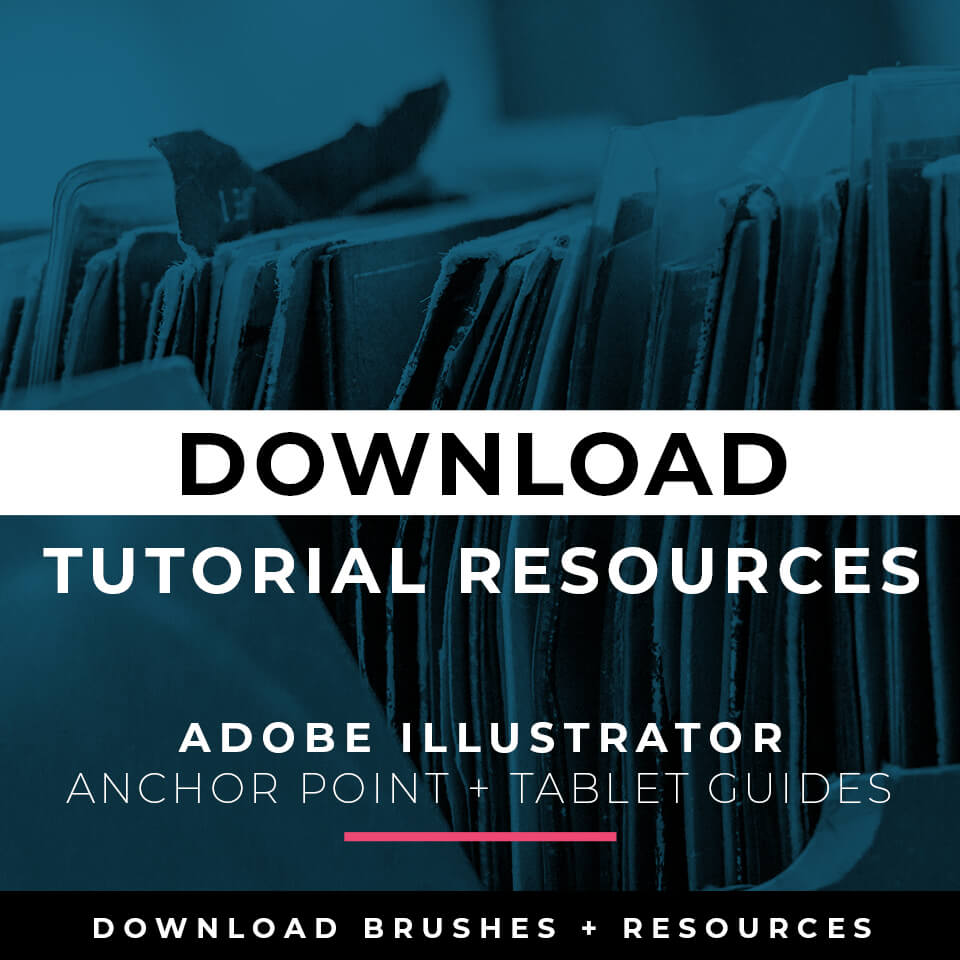 STEP #2: EXTRACT FOLDERS + SAVE BRUSHES. The first step is to download the Brushes and Tutorial Resource Folders. They will come as a Zipped Folder. Once you have Downloaded and Extracted the Brushes + Resource Folders, the Brush Libraries are Ready to Use in Adobe Illustrator. Follow Along to our Brushes Resource Guide on Teachable to assist you in Saving the Brush Libraries, Placing Anchor Point Guides, and Applying your Brushes in Adobe Illustrator.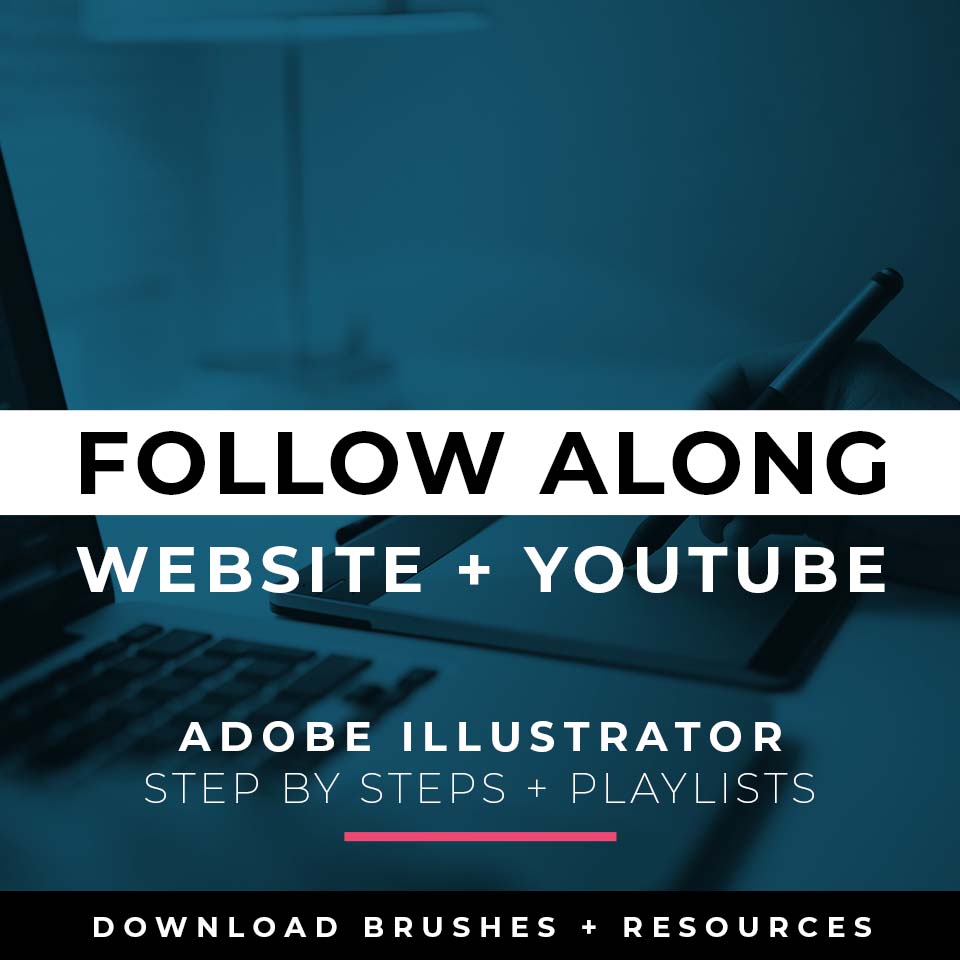 STEP #3: FOLLOW ALONG ON THE WEBSITE + YOUTUBE. If you are Following Along on YouTube, I recommend starting with our 100 Adobe Illustrator Beginner Tutorials Playlists. This list will focus on the Building Tools, Editing Options, and Basic Coloring Techniques in Adobe Illustrator. I have included our Tutorial Anchor Point + Tablet Friendly Guides (as a free bonus) with our 200 Adobe Illustrator Brushes to Follow Along with the 100 Beginner Tutorials Playlist on YouTube.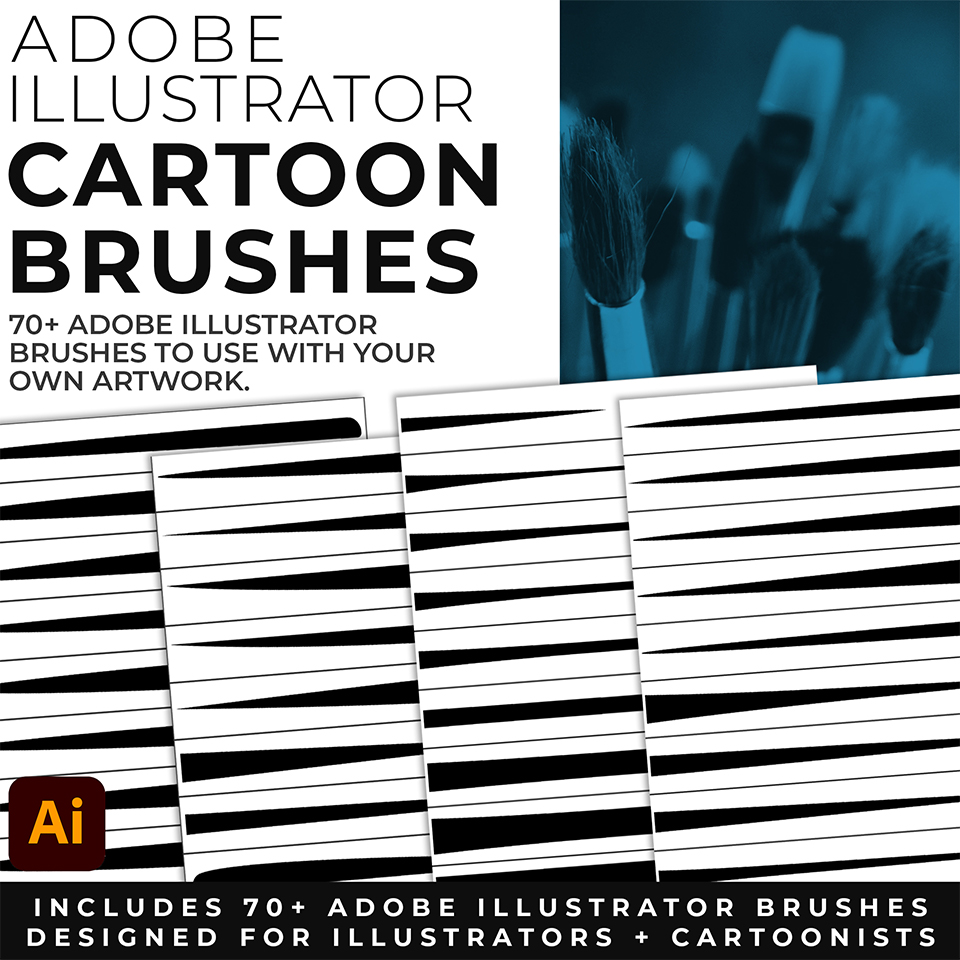 (Updated) Adobe Illustrator Cartoon Brushes specifically designed for Cartoonists and Illustrators who are looking to speed up their workflows. Use Cartoon Illustrator Brushes with the Pen, Pencil or Paint Brush Tools to Apply different Line Variation to your Vector Artwork. Includes 70+ Cartoon Brushes (libraries include the Updated Cartoon, Cartoon 2, and Original Cartoon Brush Libraries).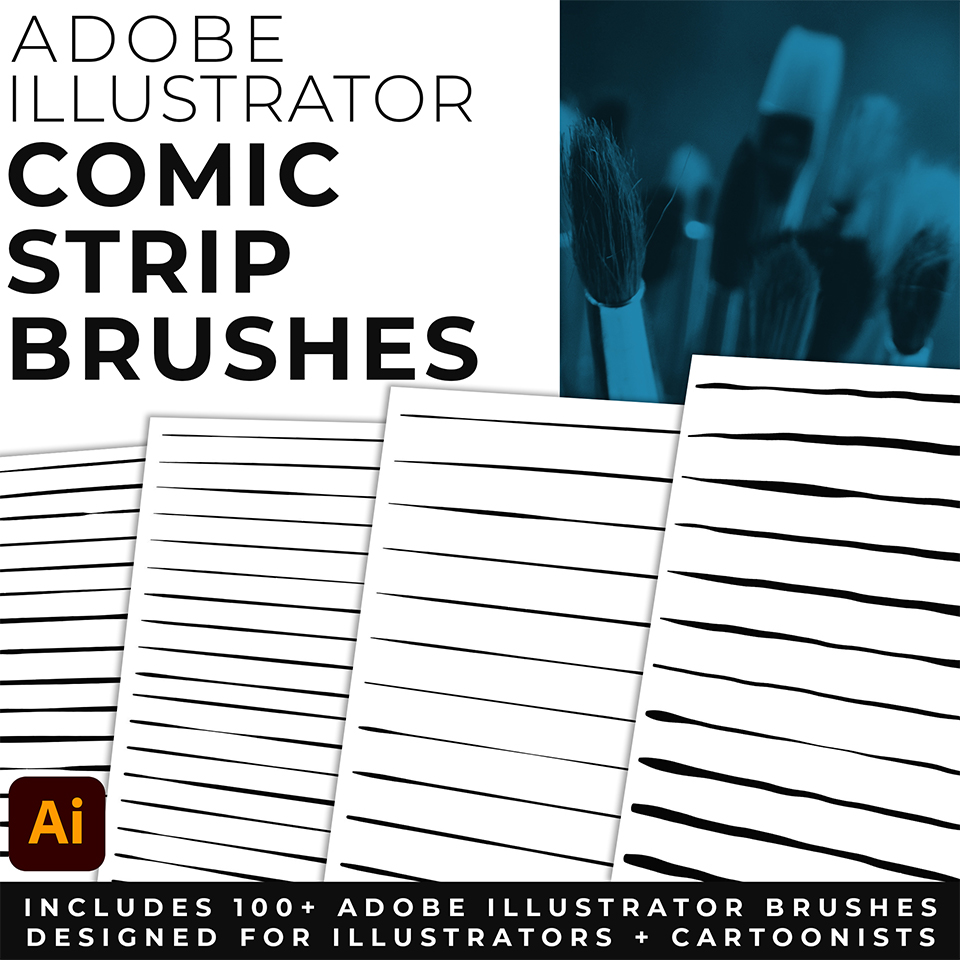 Includes Hand Painted + Comic Strip Sets to get a lived in feel back into your Vector Art. Comic Strips and Hand Painted are painted based on some of my favorite artists and cartoonists. These brushes are designed to look ready for the Sunday Paper. Includes 100+ Brushes (libraries include the Updated Comic Strip, Hand-Painted, Paintbrush, and Fine Liner Brush Libraries).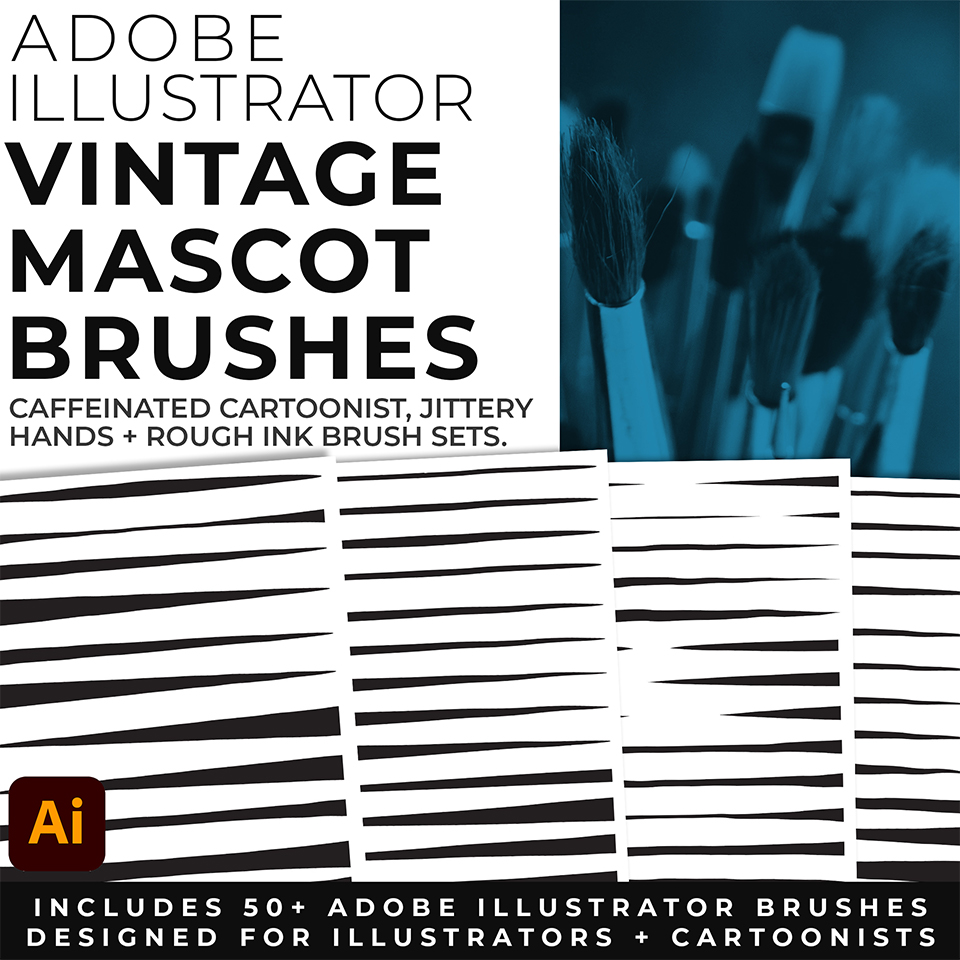 Jittery Hand, Caffeinated Cartoonist + Rough Ink to Mimic Paper Bleed and Caffeine. Designed to be a little less stiff with your vector art. Use these Brush Libraries to get more of a distressed look or ink bleed back in your own Vector Artwork with heavy ink and a little more wobble. Includes 50+ Brushes (libraries include the updated Caffeinated Cartoonist, Rough Ink, and Jittery Hand Brush Libraries).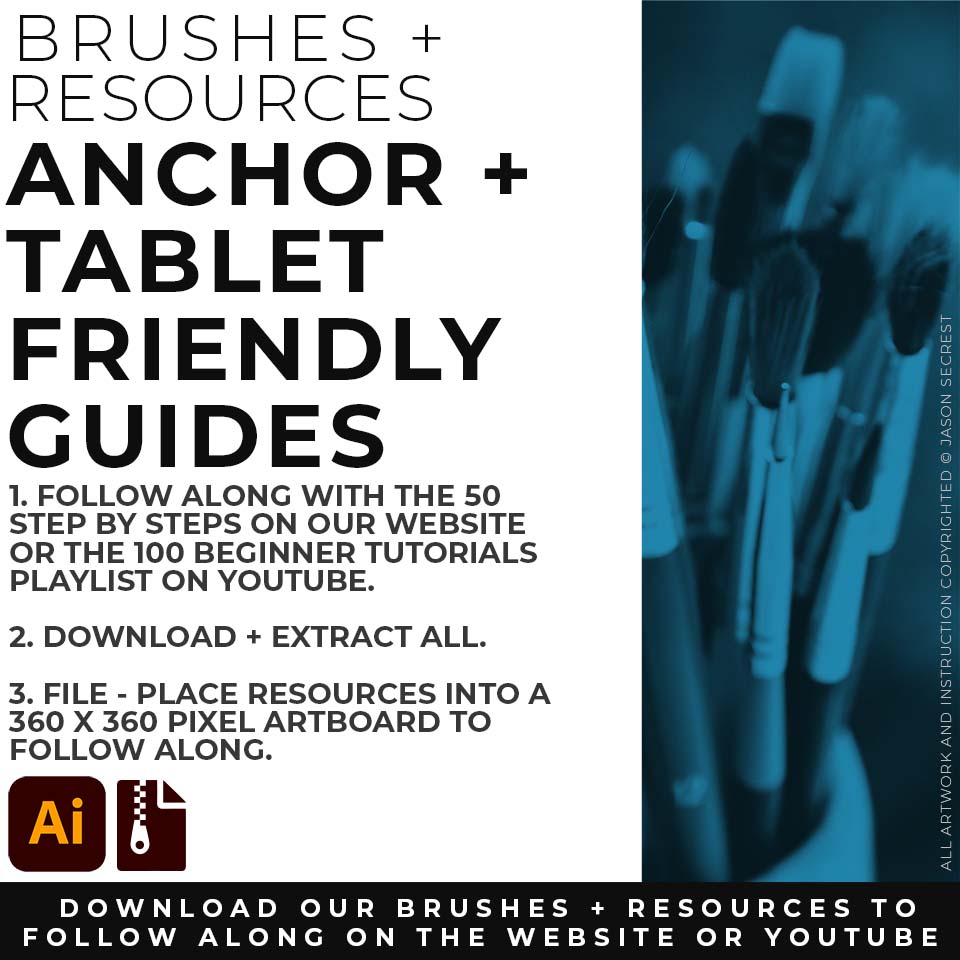 Anchor Point + Tablet Friendly Guides: Tablet Friendly Guides are simply the completed path without Anchor Points or Handles. You can use this with the Pencil Tool, Blob Brush, Paintbrush, or Pen Tools in Adobe Illustrator. Our Anchor Point Guides will have the anchors and handles to use with Pen, Shapes, and Curvature Tool Tutorials.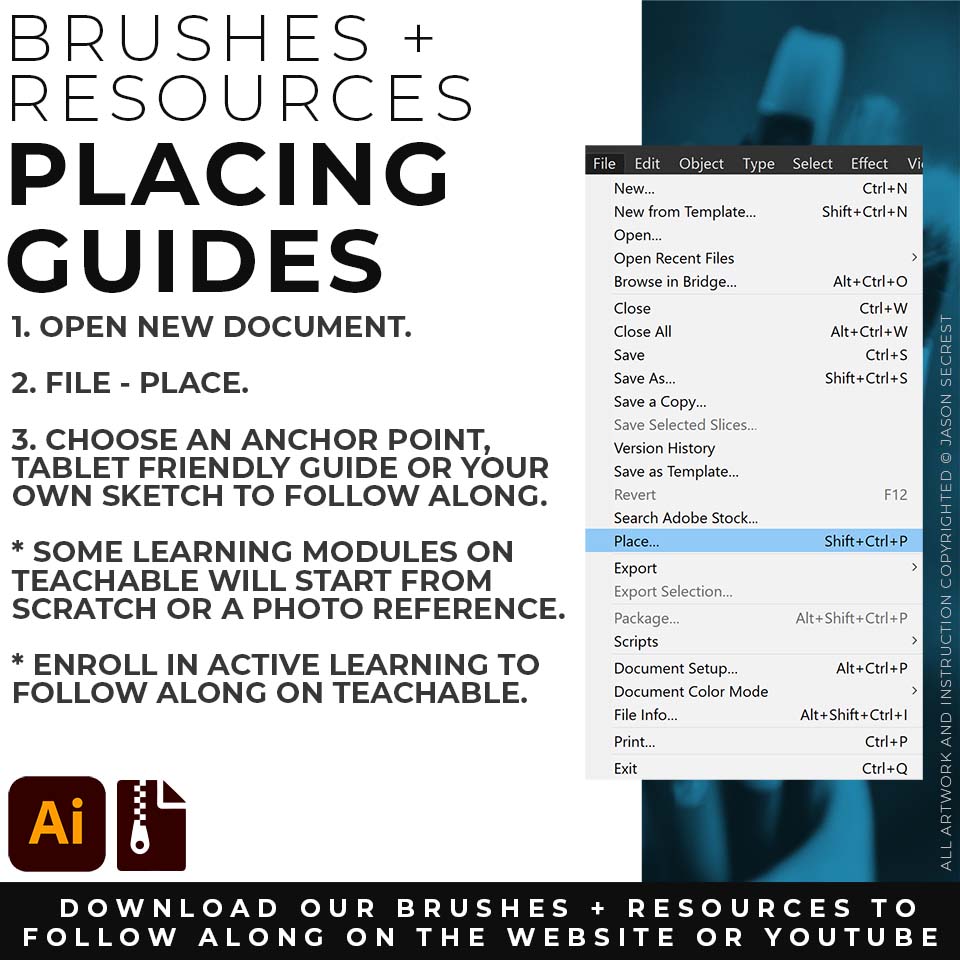 Placing Resource Images: Under File dropdown to Place. Find the Downloaded and Extracted Tutorial Resource Folder on your computer. The Tutorial Resource Folder is organized by the Tutorial, Challenge, or Workflow by the name. You can select the Anchor Point or Tablet Friendly Guide to Place into the Artboard.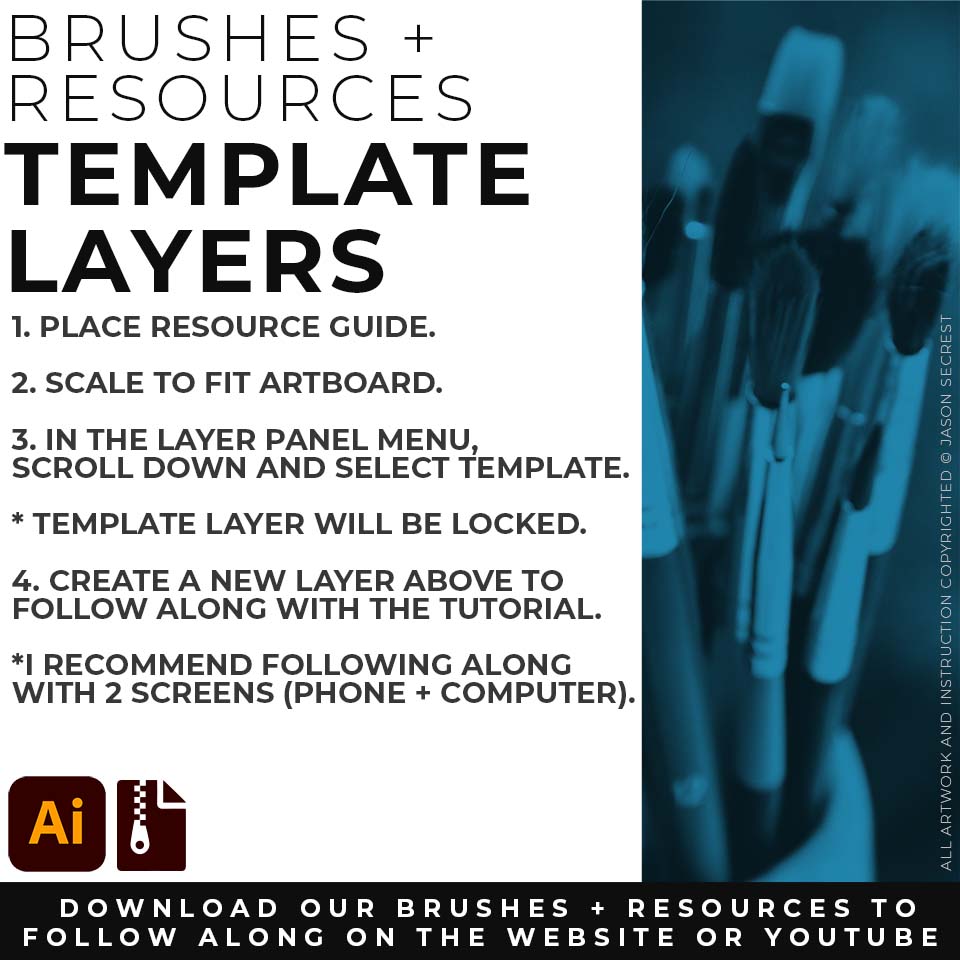 Creating a Basic Template Layer: Have your Resource Layer Selected. (It will usually be your only layer) In your Layers Panel, select the Menu in the Upper-Right Hand Corner. Drop down to Template. This will create a 50% Opacity and Lockout the Layer. Create a New Layer above to start working in Adobe Illustrator.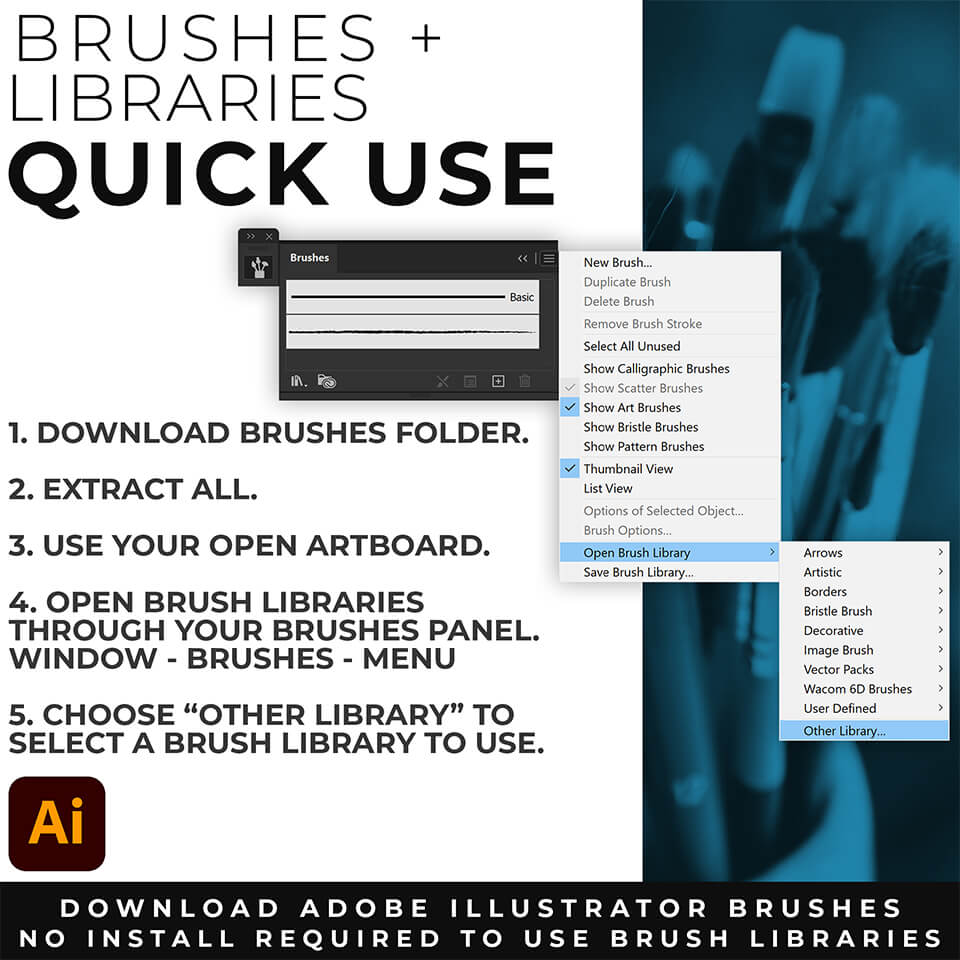 Open Brush Libraries through Other Library Option: Under Window - Select Brushes. In the Brushes Panel Menu, scroll down to Open Brush Library. Click/Hover on it and Select - Other Library. A Normal Open Dialogue Box will Appear and you can Click and Use any of the Brushes Libraries. I recommend 1 Brush Library for a Design to keep the Line Work Consistent. Libraries will have different line qualities to match with the desired design style.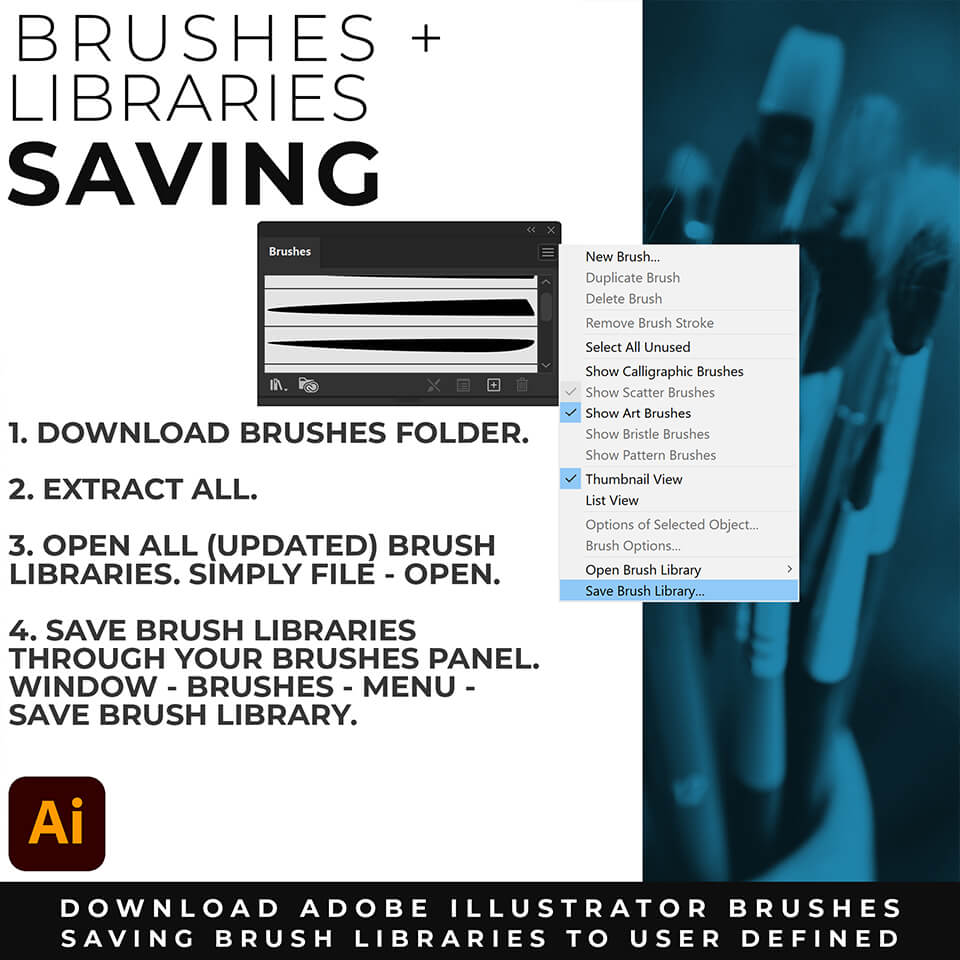 Saving Brush Libraries to User Defined: Open All of the Brushes Libraries in Adobe Illustrator. (File - Open) Under Window - Have your Brushes Panel Open. Click on Each Illustrator Document and Open the Brushes Menu in the Brushes Panel. (Upper Right Hand Corner) Click on Save Brush Library. Default Location = User Defined. Repeat for Each Library. ) I recommend Saving the (Updated) Brush Libraries to User Defined.
TROUBLESHOOTING: Try your best not to explore or try to open files directly from the Tutorial Resource Folder. Once you have downloaded and extracted the Brushes + Resources, you can go back to following along on YouTube or the Website. We will open libraries and place resources through Adobe Illustrator. If you start clicking on files in the folder there will be error messages (especially from Swatch Libraries .ASE files). The icon looks like an Adobe Illustrator File.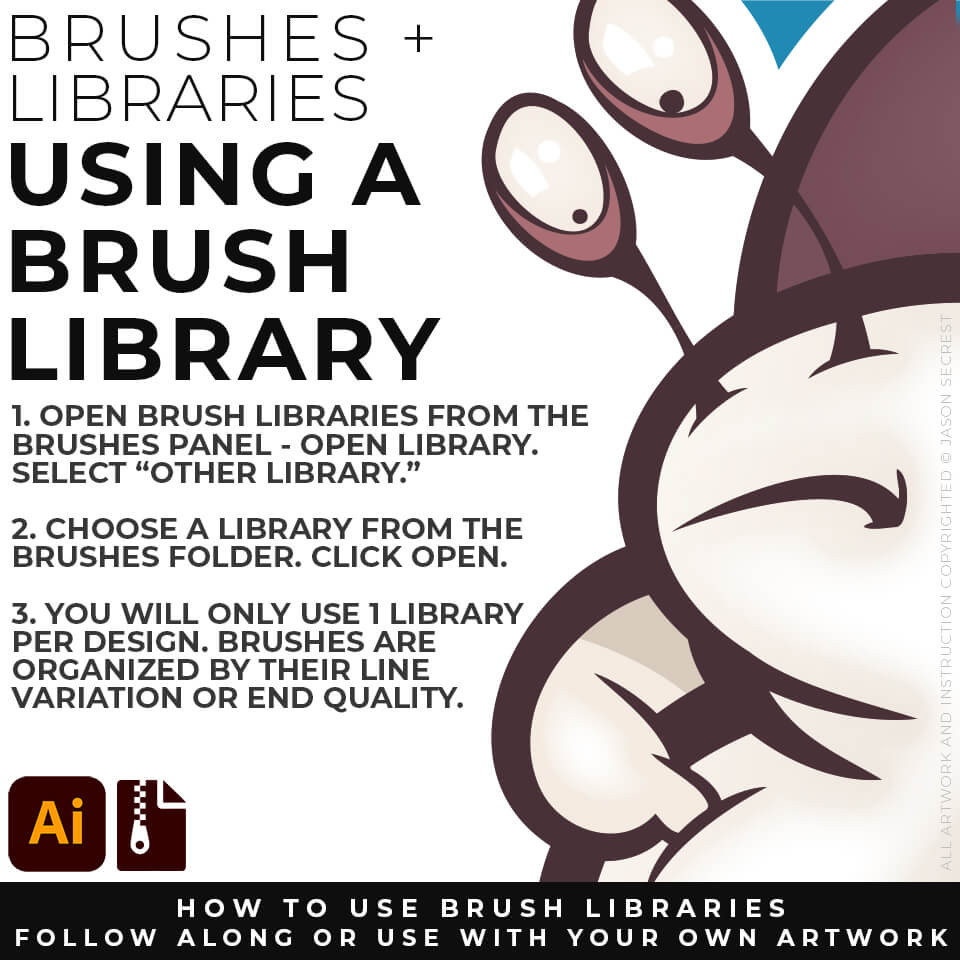 Updated Brush Libraries for Adobe Illustrator: Our 200+ Adobe Illustrator Brushes are in Brush Libraries for easy access and to organize the brushes for specific design styles that relate to your line quality. Our (Updated) Brushes Libraries are Pressure Sensitive for you to use along with your Tablet. A Tablet is Not Required to use Brushes- use with your Pen, Pencil or Paint Brush Tools. You can use our Updated Brushes the same way as shown our 50 Step by Step Tutorials using a 2-Step Method with the Pen or Pencil Tools.
Applying Brushes: Brushes are extremely easy to use. Simply align the End with the desired thickness or taper. I do recommend going through our Getting Started Guide and Challenges to Download, Save, and Apply your Brushes in a Step by Step Format. We will go through Applying, Editing, and the Coloring Process in Adobe Illustrator on Teachable.
(Updated) Pressure Libraries: Use Pressure Brushes with your Paint Brush Tool and your Tablet. I recommend going through the Tablet Quick Start Guide (or Pug Challenge inside of the Brushes Curriculum) before adding on Pressure.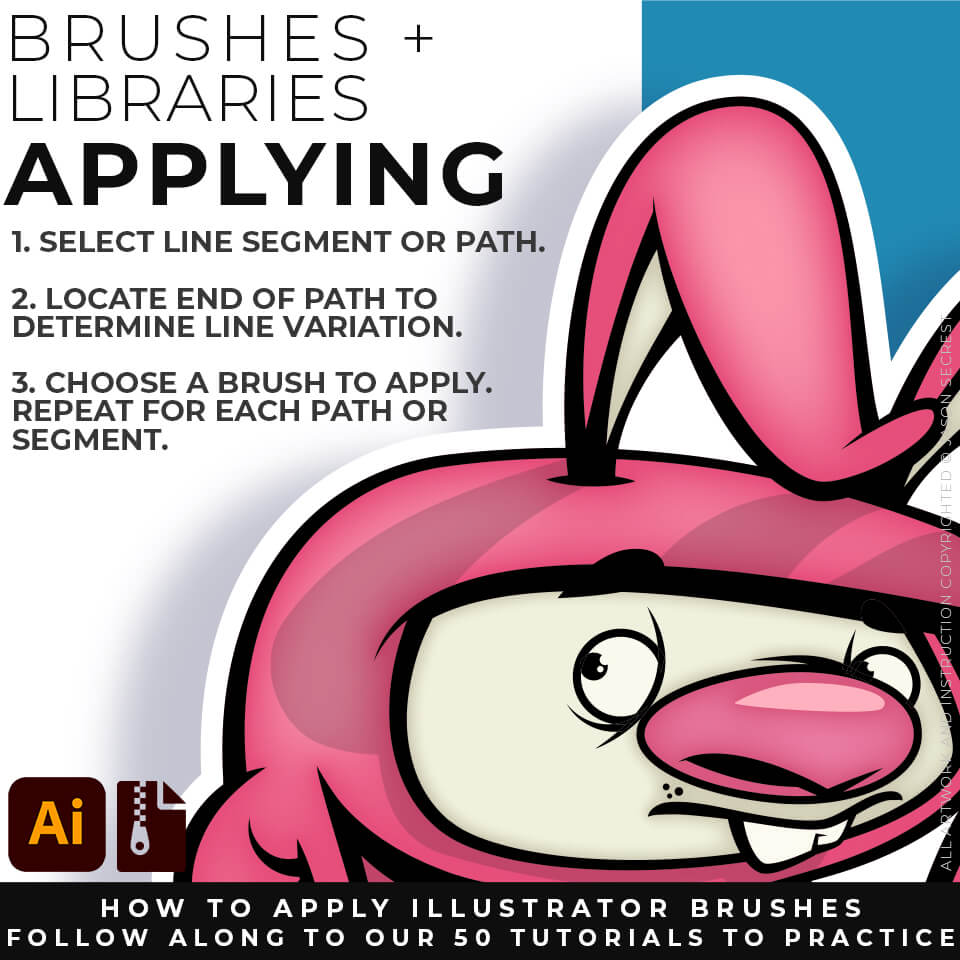 Step #1: Plan out your Line Variation and Brushes before you start in Adobe Illustrator. If you didn't, use the simple method of finding the floating ends of the line. This will signal the value change ended while you were drawing. This will be a tapered end of the line.
Step #2: Match the Brushes to the Line Variation. If you planned out your lines in your own drawing, this step is much easier. Select the Brushes and Line Weight. The easiest method is to find the ends and visually find the other end to see if it will be floating or hitting another line. If it hits another line that signals a darker value to the end should reflect the change in value. (Thicker End).
Step #3: Moving towards Editing your Brushes. Duplicate Live Brush Layer before Expanding. Expand All. Object - Expand Appearance + Expand. You really only need to Expand the Strokes. Path Simplify Option: Once the Brushes have been Expanded hit the selection with a Simplify Path ( Object - Path - Simplify) to clean up extra Anchor Points.
Step #4: Editing using Shape Builder. Select All. Select your Shape Builder Tool. Hold down Alt/Option on your Keyboard to Delete. Hit all of the overlapping lines to clean up any of the extra lines. You can Turn Off the Highlighting feature in Shape Builder. If you have busy areas, I will recommend zooming in.